Wrench Solutions wins IMC Digital Technology Award 2020 in Small Sector IT Services Category
June 30th 2021, Mumbai: Wrench Solutions, a leading provider of information and process management software for engineering and construction companies, has received the Digital Technology award in the category of Small Sector IT services from the IMC Chamber of Commerce and Industry. The IMC is a legendary organization which has relentlessly pursued the agenda of identifying opportunities, addressing critical issues, and driving Indian businesses, with the single-minded focus of sustainable growth.
The award comes in the wake of a groundbreaking implementation by Wrench for a leading global EPC company, where Wrench was able to deploy an integrated project data and document control on a running project in just 21 days, despite pandemic bottlenecks. This helped the company effectively track and control of their project in the cloud.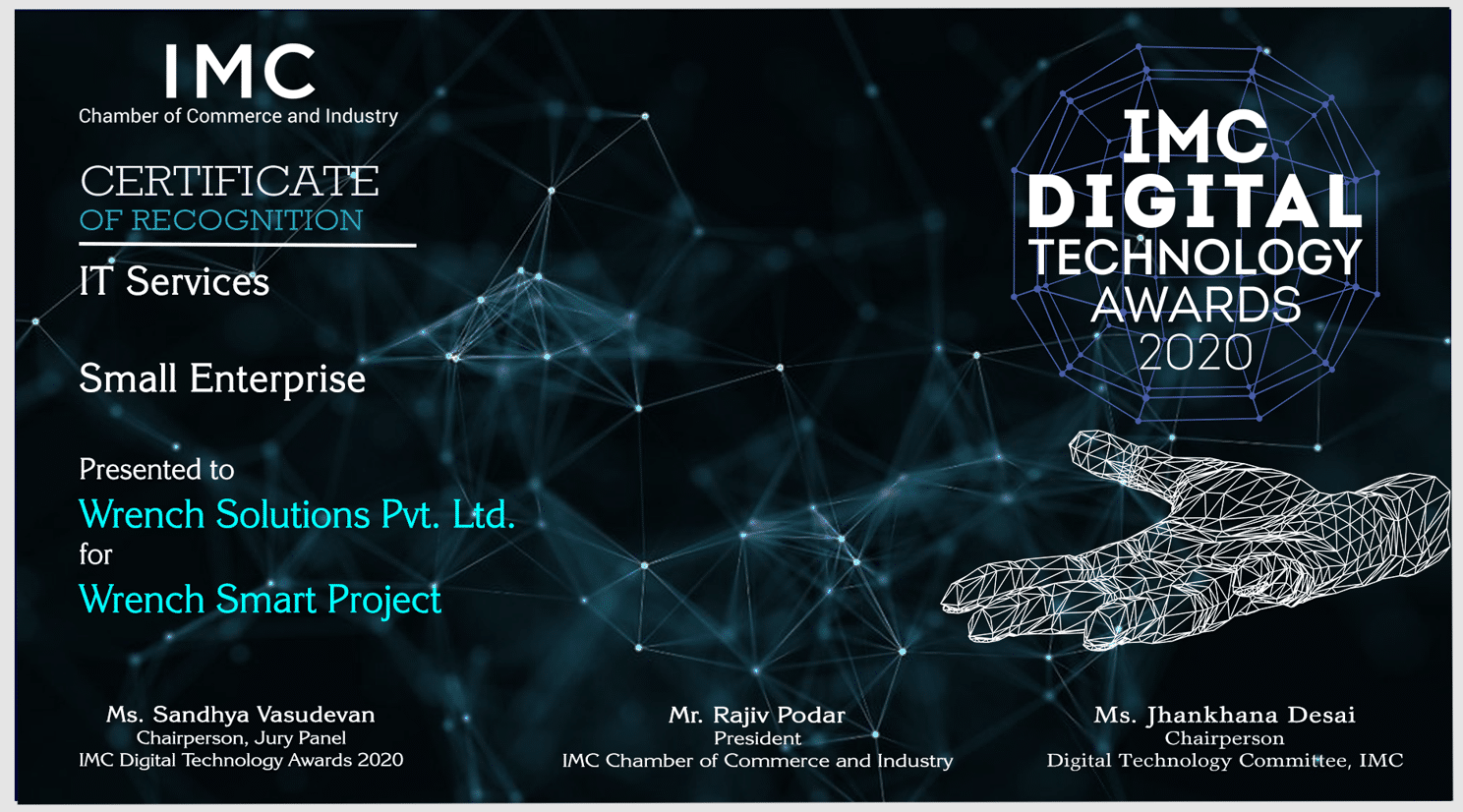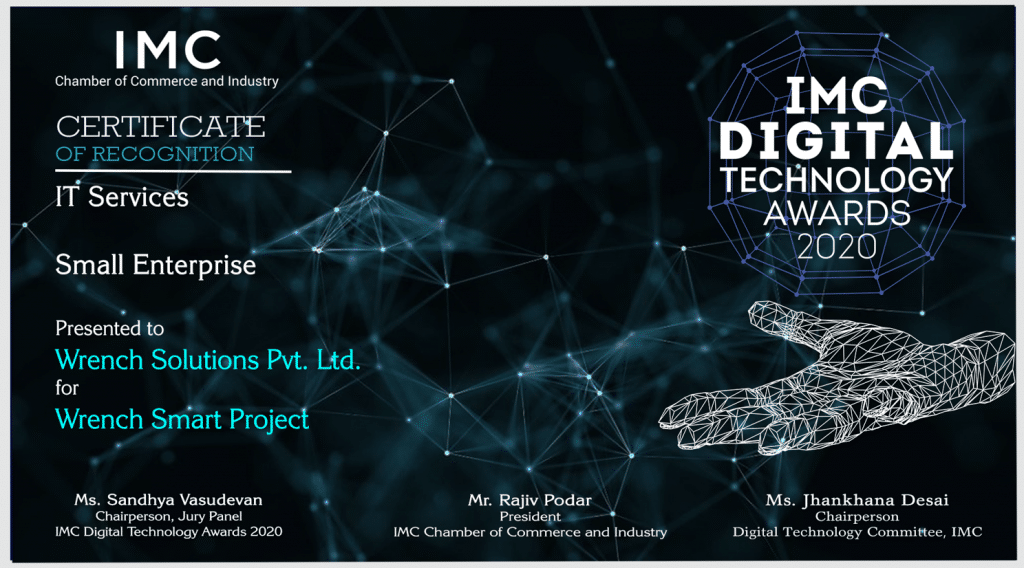 Said Mr Rajiv Podar, President, IMC Chamber of Commerce and Industry, "These awards are very much in line with the National Agenda set by our Prime Minister towards creating a Digital India (Atmanirbhar Bharat) and we strongly believe this initiative by IMC will significantly contribute towards the larger objective. As stated by Shri Narendra Modi 'In this digital age, we have an opportunity to transform lives of people in ways that was hard to imagine a couple of decades ago.' IMC Digital Technology Awards would like to encourage and recognise the efforts put forward by Wrench Solutions, and honour them with the highest level of digital achievements in the Small Sector of the IT Services Category".
Wrench's flagship product SmartProject is an intelligent cloud-based and mobile-friendly project information management solution which empowers project managers by helping them be proactive while making project management decisions. The SaaS product uses smart technology to manage data and documents, enforce processes, generate reports, and monitor project progress with very little manual effort required. Wrench is an ISO 9001:2015 company complying with global quality credentials, with its full operations certified as ISO 27001 compliant (Information security management system).
"We are delighted to have won this prestigious award from IMC. We at Wrench are driven by the larger purpose of digitally transforming the engineering and construction industry by providing solutions that improves the way work is done. To that end we leverage modern digital technology and globally accepted best practices to help owners, PMCs, contractors, and engineering consultants plan, execute, and monitor their projects efficiently. As a proud Indian, I take this award as a reminder to keep eyes on the goal and push even harder." said Mr Varghese K Daniel, Founder and CEO, Wrench Solutions.
Related Posts
Press Releases
Bangalore, India – On the anniversary of its 25th year in business,Wrench founder & CEO KV Daniel announced a series of global events to thank Wrench's worldwide customer base. These events will be held in…
Press Releases
Wrench CEO KV Daniel presented a paper at ADIPEC 2022, Nov 2, on "Using a Digital Platform as a PMO". He spoke about how Wrench helped the project owners of a USD 3200M project successfully…
Twitter Feeds
Learn about the latest #DigitalPMO and #EDMS solutions at 𝐒𝐭𝐚𝐥𝐥 𝟗𝐀, Oil, Gas, & Power Expo Goregaon Mumbai, 𝐌𝐚𝐫𝐜𝐡 𝟏-𝟑, 𝟐𝟎𝟐𝟑.

#petroleum #hydrocarbons #contech #capitalprojects #petrochemicals #oilandgas #wrench #wrenchSmartProject
Why is conventional PMO unsuitable for handling large capital projects in the EPC sector? Learn about 𝐃𝐢𝐠𝐢𝐭𝐚𝐥 𝐏𝐌𝐎 and its benefits here.
👉https://bit.ly/3XPAtdO

#EPCprojects #constructionprojects #digitalpmo #PMO #projectmanagement #projectcontrol
Can you really set up a #Digital #PMO for capital projects in a month? Yes! Don't miss our webinar on 22 Mar 2023 at 3.30 PM IST.

👉 https://bit.ly/3HSCe3Y

#digitalization #projectmanagers #projectmanagement #SmartProject #wrench #learning #projectcontrol #EPC #megaproject
Load More...