BIM MANAGEMENT​
Publish BIM models and Collaborate online as per workflow with all stakeholders. Dynamically link the 4th dimension of Time and 5th dimension of cost to the BIM model. Simulate in 4D \ 5D to visualize the construction sequence for effective communication and decision making.​ Keeps every stakeholder updated on the latest status and progress of work and changes.​
Monitor the cost performance of the project by analyzing the budget, commitment and actual spend data by integrating with ERP systems. Generate Realtime Earned Value Cost curves and dashboard for stakeholders to take proactive actions to eliminate cost overrun.
"100% time saved due to assurance of working with the latest drawings and documents, 100% savings due to quality process being properly enforced, 100% payment realization due to real-time reports."
Atul R Sandhan, Assistant General Manager - Civil, Tata Consulting Engineers




*Based on customer feedback
Quicker Billing Clearance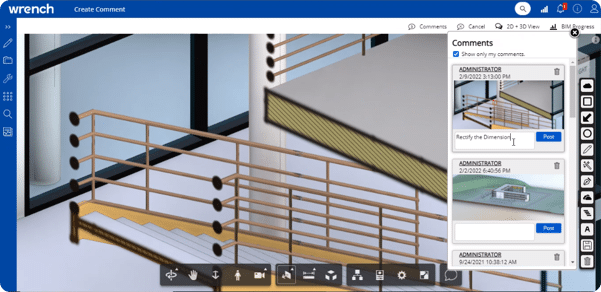 BIM Collaboration
Streamline design coordination by publishing 3D Model for review by all stakeholders without downloading.​

Risk mitigation with high level of precision, coordination as it enables conflict detection in all stages of project
4D Simulation
Build the relationship of schedule and 3D Model to enable better visualization of sequencing of construction activities.​

Assess feasibility of execution by running scenarios and finding best solution.​

Progress and impact can be viewed on 3D model which helps in forecasting of project schedule based on actual progress capture.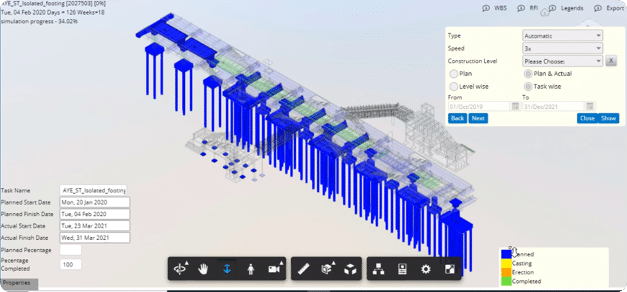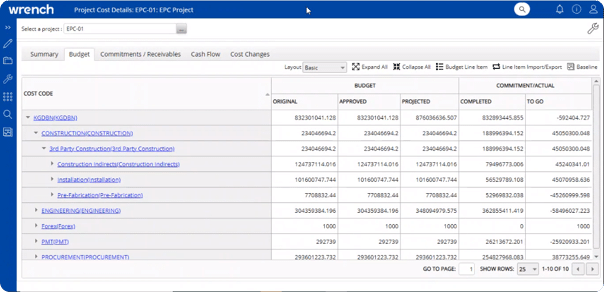 5D
Integrate cost codes to BIM for instant generation of cost budgets and financial illustrations of model vs time. ​

High accuracy and reduced time for quantity take off and estimation thus enabling cost team to focus on value improvement.
Digital Twin
Creating digital versions of physical works and assets using the data available throughout the project life cycle with BIM, CDE, quantity take off, clash detection.​

Maintaining complete history of project data that extends to maintenance and operations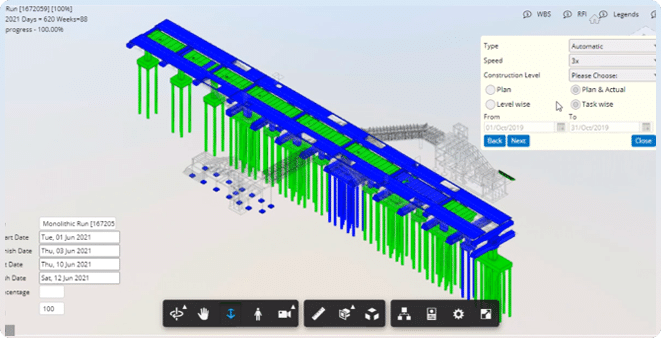 Complete cost control toolkit
Minimize cost overruns with a powerful cost control toolkit.
Improved team coordination
Forecasting construction timeline and cost
Visualization of Realtime project status
Linking of material delivery to overall project
Integration of time and cost
Integration with BIM 360 using Forge
Complied to COBie standards
Request a Personalized Demo Today!