Nisha joins Wrench Solutions as People Happiness Officer
Wrench today announced the appointment of Nisha Venugopal as its first-ever People Happiness Officer. Nisha has over 13 years of experience as an HR professional in a range of Construction,  Manufacturing, and ITES segments with knowledge of HR systems & processes in family-owned businesses and start-ups. She has helmed organization development and transformation processes through business-aligned performance management systems and other OD initiatives. Nisha is an alumnus of Rajagiri School of management in Masters of Human Resource Management and is a graduate in Economics from MG University.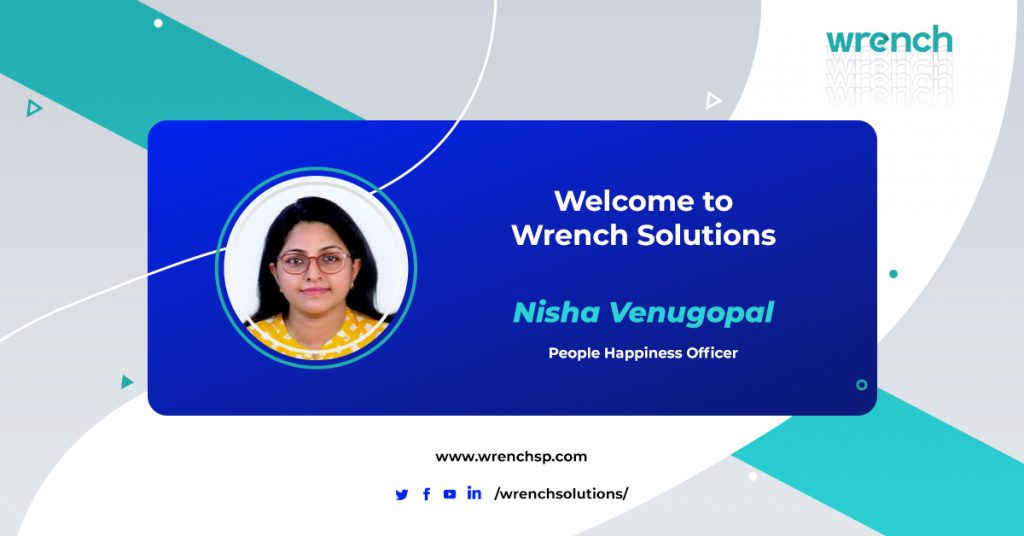 As People Happiness Officer, Nisha's goal will be to ensure that there is a positive happy work culture within the organization and that employees are aligned with the goals and vision of the company. Among others, she will be responsible for developing and delivering the organization's internal communication strategy and building appropriate feedback mechanisms into employee engagement activities, and also opening up transparent communication channels between employees and management.
Said KVD, "Nisha represents the new Wrench that I would like to see evolve, with a strong focus on human connectedness and compassion within an organization geared to enhance people's happiness and employee experience. Welcome to the team, Nisha!"
Related Posts
Press Releases
Abu Dhabi, 19th Jan 2022: Implementation of the Wrench SmartProject EDMS platform was recently completed at Rejlers Abu Dhabi. In October of this year, Rejlers Abu Dhabi announced that it had secured a Strategic Framework…
Press Releases
Wrench today announced the appointment of Shabna Madala as Digital Transformation Specialist (Infra). Shabna has over 6 years of experience in the construction project management sector, having worked with leading consultancies like AECOM, Colliers, and…
Twitter Feeds
Future-oriented infratech player Ducon Infratechnologies Ltd partners with Wrench to streamline data management across growing portfolio of active FGD projects.

Read More : https://lnkd.in/dE4aPPUM

#ducon #SmartProject #projectmanagement #newwin
Read our latest blog on "How Procurement Delays Hold Up Project Completion"

Read More : https://lnkd.in/dhhehRyQ

#ProcurementManagement #DocumentManagement #ProjectManagement #ConstructionManagement
To know how the owners of a multi-billion JV project used SmartProject to track and monitor work across multiple locations, contractors, and vendors, join us on June 7th at @PCE_Virtual 2022.

#ProjectControlExpo #ExpoVirtual #ProjectControls #PCExpo2022 #Speaker
Load More...