Wrench CEO KV Daniel presented a paper at ADIPEC 2022, on "Using a Digital Platform as a PMO".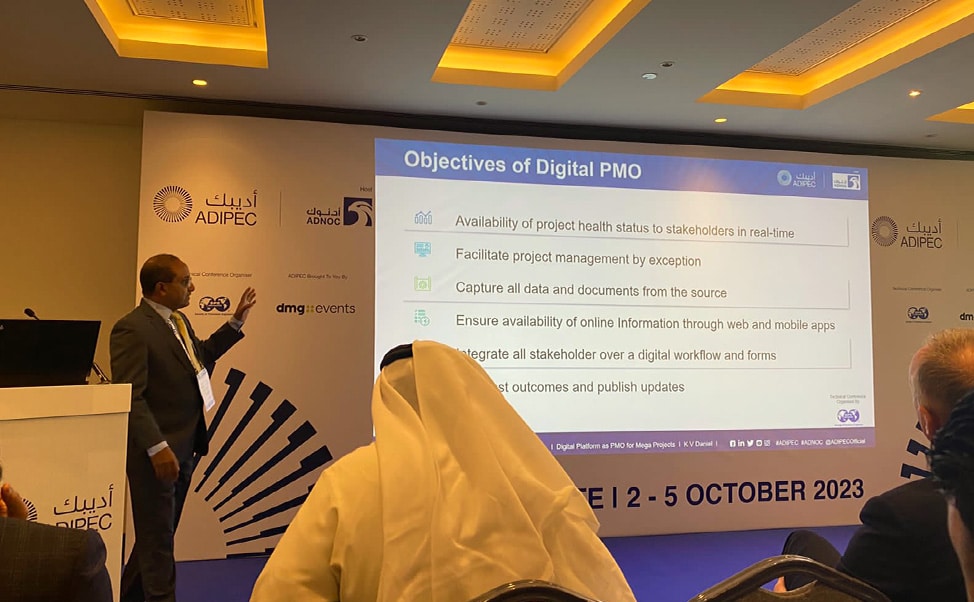 Wrench CEO KV Daniel presented a paper at ADIPEC 2022, Nov 2, on "Using a Digital Platform as a PMO". He spoke about how Wrench helped the project owners of a USD 3200M project successfully replaced their project marketing office with a digital system.
Wrench SmartProject, a cloud-based digital platform engaged by the 'Owners' organization, ensured that with minimal resources, almost 1/10th of conventional requirement, PMO functions are managed for such a mega project with multiple stakeholders. The digital dashboards provided by SmartProject were made accessible at any time through mobile apps and desktops. This ensured that the stakeholders could proactively make well-informed decisions in time rather than taking reactive remedial actions.
ADIPEC 2022 is where the world's energy ecosystem will come together between 31 October to 3 November 2022, to explore market trends, source solutions and conduct business across the industry's full value chain. This dedicated exhibition and conference will enable the global energy industry to strengthen existing business partnerships and form new models of cross-sector collaboration to unlock and maximize value across businesses and drive future growth.
Related Posts
Press Releases
Wrench today announced the appointment of Nisha Venugopal as its first-ever People Happiness Officer. Nisha has over 13 years of experience as an HR professional in a range of Construction, Manufacturing, and ITES segments with…
Press Releases
Abu Dhabi, 19th Jan 2022: Implementation of the Wrench SmartProject EDMS platform was recently completed at Rejlers Abu Dhabi. In October of this year, Rejlers Abu Dhabi announced that it had secured a Strategic Framework…
Twitter Feeds
Let's remember all those who had sacrificed for our freedom and integrity. Let's join in our nation's prosperous outcomes.

#UAENationalDay #UAENationalDay51 #UAE51 #UAE #dubai #mydubai #wrenchsolutions #wrench #wrenchSmartProject
A historic remembrance honoring the sacrifices of our Emirati heroes who gave their lives with nobility and honor, raising the name of our country high with pride. The #UAE is proud of you.

#dubai #UAECommemorationDay #CommemorationDay #wrenchsolutions #wrenchSmartProject
Which phase of a #Project is likely to create a Scope creep in an #EPC Project?
Load More...