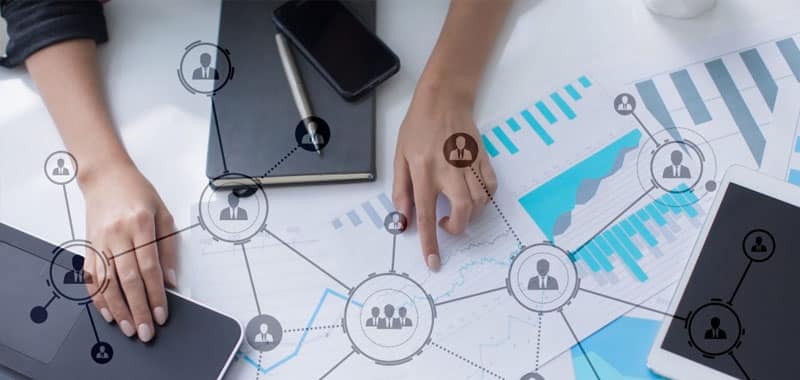 During the 2020 global Coronavirus pandemic, revenues of Engineering and EPC companies dropped by 20.2%, according to ENR April 2020. In this situation, monitoring cash flow, cost control and managing remote collaboration and work tracking become very critical.
The need for better management of cash flows is long-standing and has only intensified during the lockdowns. Work from home guidelines, on the other hand, are new, and while they may have addressed the immediate crisis, there will be long-term effects that have to planned for; for example, studies have shown that working remotely for long durations can affect morale, which will in turn reduce productivity while increasing the potential for errors and rework.
In this post we will attempt to explore these issues and recommend best practices to overcome them, based on solutions I designed and implemented for engineering companies.
Common causes that drive Engineering companies out of business
1. Poor Capital and Cashflow management
Engineering companies spend most of their funds for manpower and EPC companies, other than manpower need to invest in purchasing material,  equipment, machinery etc., which demand high investment up front, and when a project's spend overruns its budget, companies divert working capital into areas that have the more urgent needs, which leaves them with no buffer to offset lean times. This has caused many Engineering & construction companies to fail. I believe the ability to monitor and control cash flows consistently and proactively is the need of the hour, and if addressed, would help companies stay afloat.
 2. Lack of Project Progress Monitoring
When the project does not progress according to plan, that impacts the billing milestones, and in turn the cash flow, which results to a common after-effect of poor project performance and budget overrun.
When the actual cost of work completed is more than the planned cost, that eats into the project's profitability in a big way.
Even though it may take a string of bad projects for the company to actually shut down, there have been cases where a single bad project caused a shutdown. If such companies had the ability to monitor and control the performance of their remote teams, it could have made all the difference; they would have been able to course-correct more effectively and manage project performance deviations more successfully.
3. Lack of integration between People, Process & Technology
When people work remotely, enforcing adherence to processes and quality standards is vital in order to maintain the quality of the deliverables, because failure to do so will result in expensive rework. However, companies struggled to enforce adherence to quality processes at the best of times, and in the current remote working situation, this particular bottleneck has narrowed even further.
The acquisition, motivation and retention of skilled manpower is another key challenge in an industry where the demand for skilled and motivated manpower is very high, and supply is not always in sync. To address these issues, I recommend the correct selection and deployment of a technology-driven integrated project progress monitoring and control system. It can drastically improve transparency and integration of work performed remotely.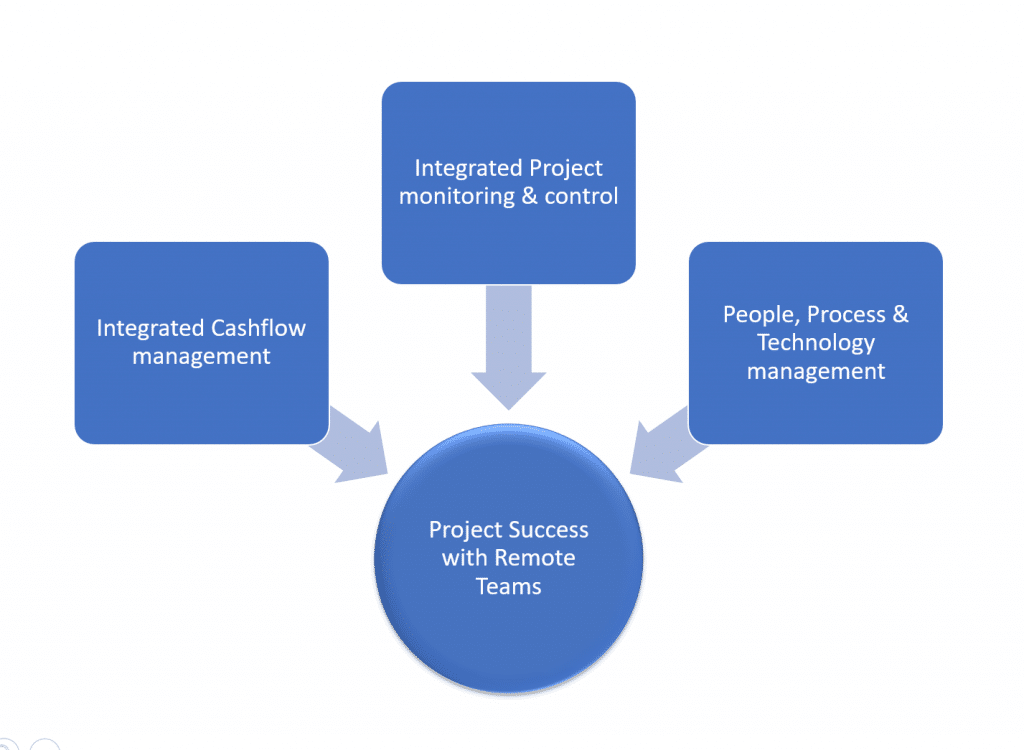 Survival Tactic 1: Organizational approach to project cashflow management
While profit is the ultimate motive, organizations must also focus on sufficient cashflow to meet the operational needs, failing which leads to closure. Managing today's large and complex projects is not much different from managing complex organizations. Owners and Main contractors must focus on the supply chain needs of their consultants, sub-contractors and suppliers. They must ensure that there is enough cashflow to meet the payment needs throughout the lifecycle of the project. Organizations have matured cashflow planning and monitoring which has both long term and short term cashflow analysis. Projects must benchmark their cashflow planning and monitoring with organizational cashflow analysis.
 An important part of financial planning for projects is understanding the inflows and outflows of cash. A cash flow table is a very useful tool, that will help companies accurately analyze their cashflows, by breaking down the inflows and outflows on a monthly basis. The cash flow table also serves as a tracking tool, creating a baseline against which project spending can be compared.
The key inputs for developing the cashflow table are:
Major billing milestones and the expected payment dates
Major payment milestones with dates
The cash flow table acts as a baseline against which actual billing, receipts and payments can be tracked.
After establishing a cashflow table, the next challenge is comparing it with the actual project progress to analyse the impact on cashflows due to project delays. And here, unfortunately, is where the biggest challenge for project managers lies. Project managers deal with a dire lack of accurate and timely project progress information. It is this problem that must be first addressed, in order to enable timely cashflow impact analysis and corrective actions. This is the problem Wrench SmartProject addresses.
How SmartProject helps manage the project cash flow
We start by defining the cost breakdown structure of the project and the milestones of the payments. We link the payment milestones to the specific activities in the work breakdown structure, and so any delay in completion of the activity will raise an alarm about delay in the cashflow.
The progress of the work is captured in the system, and the value of work done is calculated based on that progress. So if the work is not progressing as per schedule (S-Curve), SmartProject will notify the concerned person, letting him know that the cash flow is being affected in such-and-such a way, and pushing them to plan ahead accordingly.
By linking the budgeted cost and its spread along the package, the expenses based on actual timesheets can be shown in the cashflow. By linking the timesheet to the cashflow, the cost earned can be calculated and shown, which helps the cost manager to assess the earned cost and compare it with the value of work done.
Any delay in the invoicing, approval of invoice and payment delayed can be displayed in the cashflow. Payments and receivables with ageing information can be seen online.  
Notifications and escalation email can be sent to all concerned in case of any deviation from the scheduled cashflow.
Cost control is managed by most organizations independently (or in MsExcel without integrating the spreadsheet with the scheduling system), and so cost control is mostly done as a corrective action ie reactively not proactively. By integrating the cost breakdown structure with the work breakdown structure, and by capturing all the commitments with payment terms in the cost management module, expenses and receipts can be monitored in real time as the project progresses. When there is a variation in the budget due to changes or delay, the impact on the cost can be immediately seen.
The profitability of each package can be monitored online as the work progress and hence necessary corrective actions can be taken.
The utilisation of the contingency budget and impact on the profitability can be monitored.
Using the data of the time or cost to complete information, the cost overrun can be calculated and presented.
The total cost to complete, which includes the cost spend + change orders (if applicable) + cost to be spent to complete the work can be seen at work package level as well as the overall project level.
Using the Forecasted budgets, the estimated cost to completed can be calculated and necessary notifications can be sent.
Survival Tactic 2: Digitize Project Progress Monitoring
Implementing a technology platform that makes available accurate information about the project's progress  will help the company clearly see what the impact on the project cash flows will be if the actual progress is not good enough when compared to the planned progress, and if the actual cost of work is not within the planned cost.
SmartProject give project managers this valuable information. With the help of the in-built automated Earned Value Management and Earned Schedule Systems,  project managers will be able to forecast schedule and cost variances, and take the necessary corrective / preventive actions before the real slippage happens.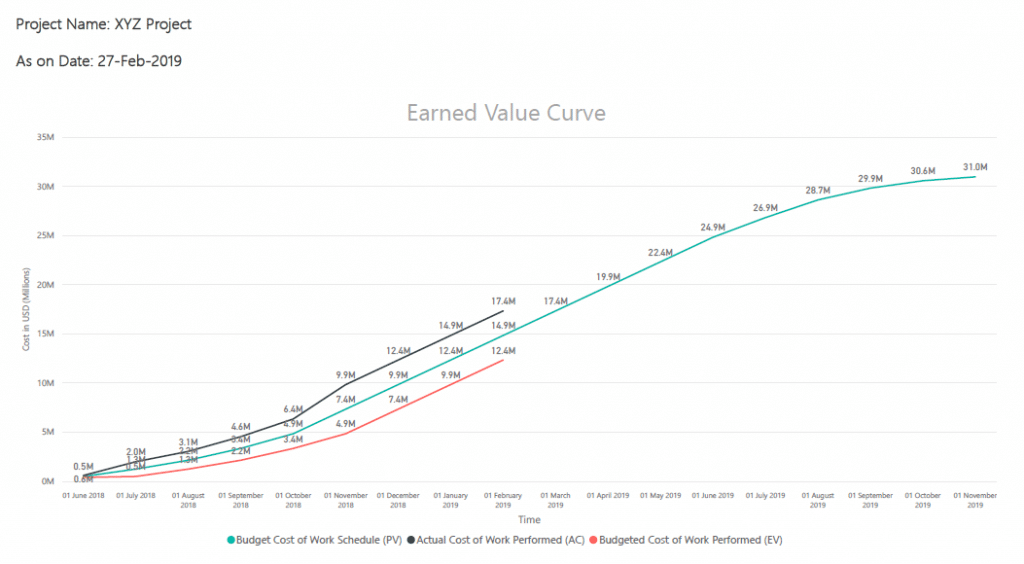 With pre-defined rules of credit easily accessible and with the automation of the project workflows ready to hand, project managers have almost real time and accurate schedule and cost forecasts at their fingertips. This will improve project progress visibility and speed up the project.
For the majority of projects,  the project profitability is around 6% to 7%, while retention is around 10%. Delays in snag management and claims tend to impact this component of the cashflow towards the very end of the project. This cannot be avoided in most cases, but having an integrated monitoring and control system will speed up the claiming of these amounts faster.
Survival Tactic 3: Integrate People & Processes with Technology
Research has shown that the productivity of people working remotely decreases over a period of time due to lack of motivation, and in some cases even causes them to leave their job. One way to address this, which has proven efficacious, is to create a friendly sense of competitiveness within the team. Having a project platform on which everyone works in the same virtual space, which is transparent, and where people can see how their colleagues are performing, is a win-win way to tap into the basic human instinct to compete and excel. Companies can come up with their own system of incentives and/or penalties to support this and build a strong team spirit where people feel valued and motivated.
Apart from employee morale, ensuring adherence to processes is the big challenge with remote teams.  Technology can solve both these challenges, but it has to be integrated with other systems to function optimally. For example, a cloud-based system like SharePoint do store all documents and their revision histories, as do collaboration tools such as Teams, Zoom etc, but the communications and files for this data has to be maintained independently, which entails a lot of manual effort. Reports for monitoring the deliverables and project are created manually, which again raises the chance of human error. Wrench SmartProject solves this.
In SmartProject, it is possible to have:
Proper work assignment of resources and real time monitoring of work.
Connection between all the stakeholders on a digital platform, to ensure that work is executed as per the quality management process which is defined in the system.
Easy digital collaboration between the stakeholders, which results in less  rework.
Automatic maintenance of all the documents with their revisions in the cloud, which creates a digital audit trial.
Secure access to all project information from anywhere, anytime.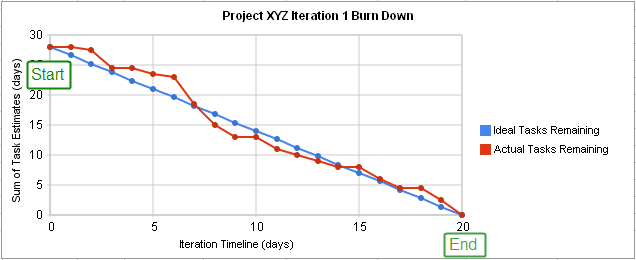 Conclusion
To sum up, engineering companies need to address three vital factors to compete and survive in the post-pandemic market landscape, namely:  a) Close monitoring and control of cashflows, b) Improving project progress, and c) Effective remote team management.
It is my recommendation that such companies adopt a system that is technology-driven and has automated quality processes and pre-defined rules of credit built in. Implementing such a system would be the fastest and most effective way to address all 3 factors.
Useful resources:
Post-pandemic realities have provided us with the opportunity to contemplate new labor force strategies, WFH cost impacts, and improved processes to allow us to effectively manage a more remote workforce.  How might all these considerations impact your bottom line, as well as the competitiveness and resilience of your company ? Download our whitepaper to know more.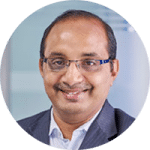 Author
Varghese Daniel
Varghese Daniel is the co-founder and CEO of Wrench Solutions.
Related Posts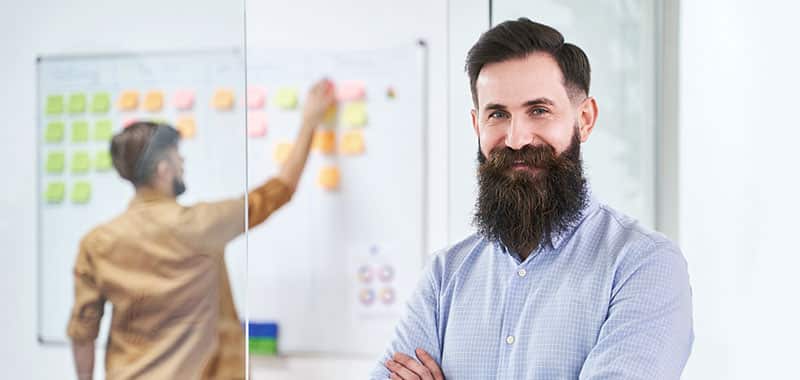 A quick look at the Top 3 global project management trends A project's success criteria is being determined by ROI and ROCE rather than the traditional three-factor approach of Time, Cost and Scope. Projects are…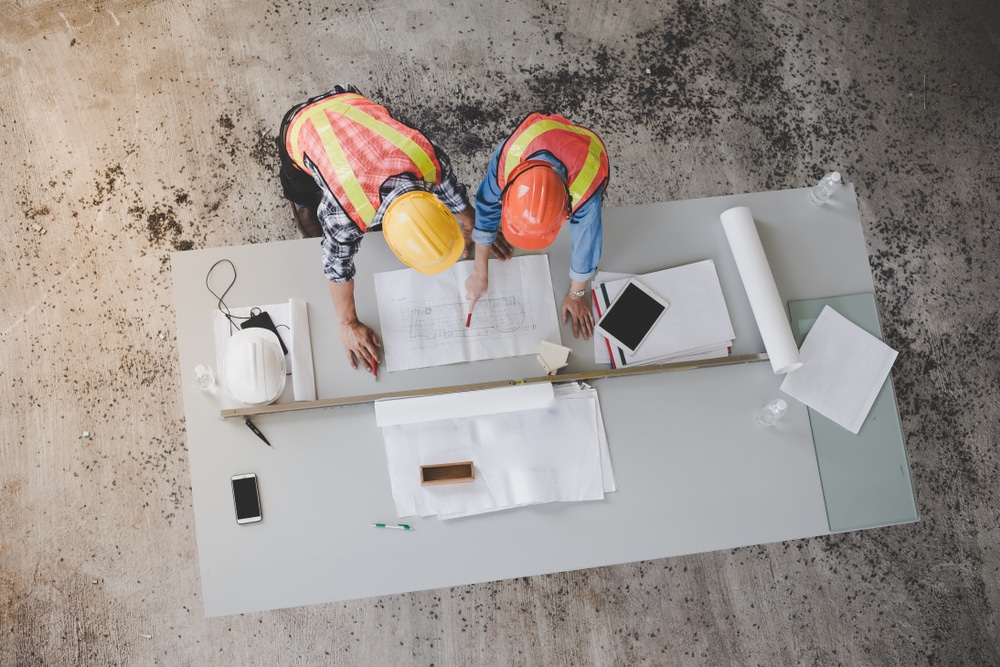 In the previous blog post in this series, we talked about how the risk of delayed conditional payments can be minimized with better documentation management. Here we will focus on how an early-warning system can…
Featured Posts

September 13, 2020
[rt_reading_time postfix="mins read" postfix_singular="min read"]

August 24, 2020
[rt_reading_time postfix="mins read" postfix_singular="min read"]

August 12, 2020
[rt_reading_time postfix="mins read" postfix_singular="min read"]
Subscribe to Our Blog
Sign up for our regular updates on project productivity, delivered straight to your inbox