Our Information Security Management System is ISO 27001:2013 certified
We are delighted to share that as of February 24 2020, Wrench is officially ISO 27001:2013 certified.
"Achieving the ISO 27001 certification is a great milestone for Wrench. For us, information security is also a question of company culture. With everyone's daily contribution we always aim to not only maintain, but to further improve our high security standards. The maturity of our processes is now also officially attested by an independent party." Said Aju Peter, Chief Information Security Officer.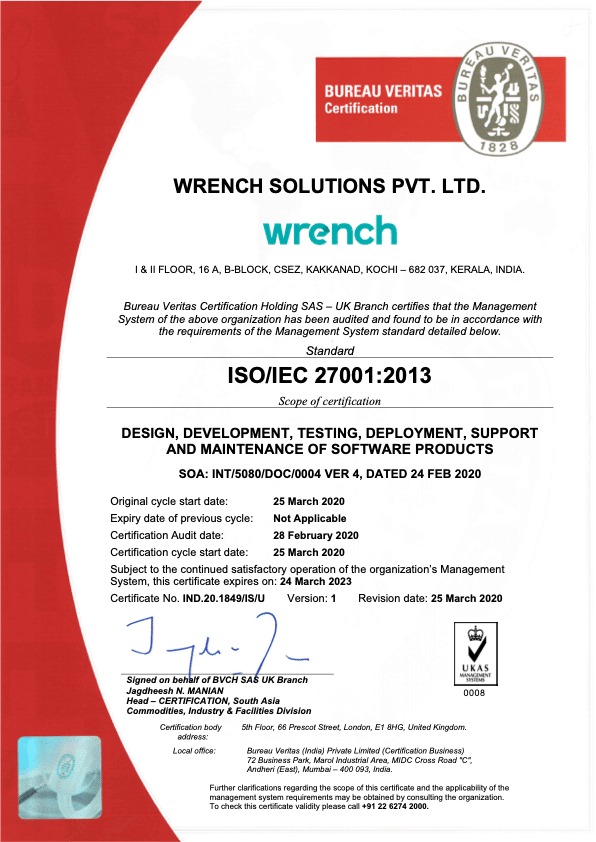 What is ISO 27001 and why should it matter to you?
The ISO 27001:2013 is a globally recognized information security standard defined by the International Organization for Standardization (ISO) which is the top certification for Information Security Management Systems (ISMS). It prescribes a set of rules on how organizations should manage and handle information in a way that ensures assurance of confidentiality, integrity and availability.
Knowing that Wrench has been certified by this internationally recognized standard gives that assurance, beyond any doubt, to our current and future customers.
The ISO 27001 certificate is proof that Wrench has implemented all the required processes and organizational structures and is well able to:
Manage all risks related to information security, keep confidential information safe
Protect information assets, and
Achieve compliance with international best practices and legislation.
Our continuing commitment to security
Our customer's confidence matters a great deal to us. We will continue to build standardized requirements and processes for operating, monitoring, maintaining, and improving the ISMS, as well as increase Organizational Awareness on this important subject.
We are deeply grateful to everyone in the Wrench team, and all our customers, who helped us achieve this landmark.
Related Posts
Announcements
Wrench Solutions newly formed unit Wrench Academy conducted a 5-day online training program on 'Best practices of integrated project monitoring and control' to select customers and prospects during the lock down period. This unique program was offered…
Announcements
Beijing, 2-8-2019: Wrench Solutions (P) Ltd has entered into a partnership with ClearWaterBay (Beijing) Technology Limited Company to sell and implement Wrench products and solutions to the Oil & Gas sector in China (including Hong…
Twitter Feeds
Our CEO @kvdanielwrench explains the role #SmartProject is playing in #exchanging and #managing the design data and all information between all the project stakeholders in the NCRTC project.

#railtech #railtech2020
In his virtual session at the @PCE_Virtual 2020 on 17th November, @kvdanielwrench will be speaking about the exemplary work done by us for one of the leaders in natural gas processing and treatment and compression products and services company.

#ProjectControlExpo #ExpoVirtual
Load More...