Lesson Objective 
To introduce the participants to the best practices of snag management 
Effort required – 15 minutes
Lesson Introduction 
What is a snag?
Snag is a minor flaw in the permanent works that must be rectified before the client/ end user takes over the works/facilities for its intended purpose. It is also referred to as "punch list".
Snag is not a legal or contractual term, rather it is a common slang used in the EPC industry. The legal/ contractual term is "defect". Most snags are cosmetic in nature such a small crack in the corner of the wall, a rusty bolt, a minor dent on door handle, rusty door hinge, etc.
A list of snag items (also called snag register) may be prepared by the project consultant/ resident engineer/ contract administrator or the quality manager. The snags are attended to and rectified by the respective EPC contractor or his sub-contractors.
If snags are not attended and completed, the end-user may or may not take over the works/facilities.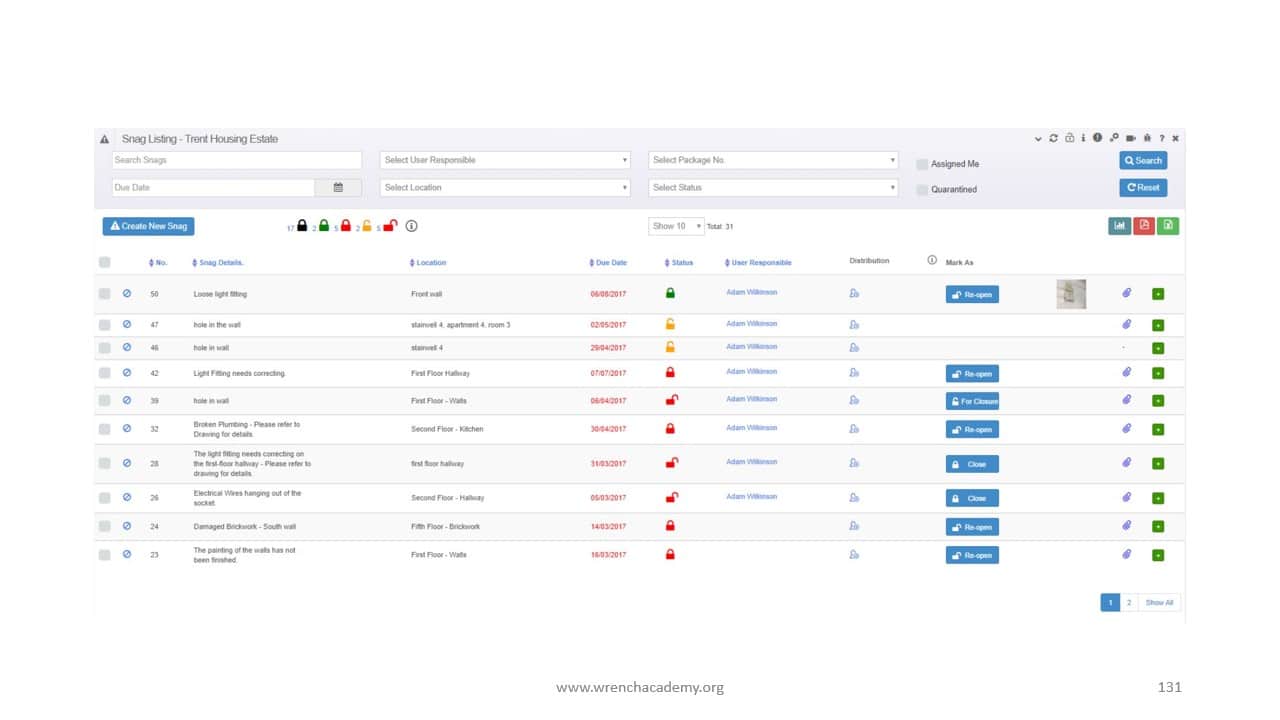 How do snags occur?
Snags rarely occur during installation, rather it occurs sometime after installation. For example, a portion of a painted wall may be approved by the resident engineer. However, the entire project may be completed only after six months. In this time, a small crack may appear in a corner, which is a snag item.
Snag Management – Monitoring & Control
QAQC engineer to inspect all workmanship based on the Project Quality Plan.
Any minor flaws in works or on materials must be identified, recorded and internally issued to the construction team for rectification.QAQC manager must maintain a log of all such defects/snags under non-conformance system in accordance to QMP-1008-008.
QAQC engineer to follow-up with construction team on daily basis to close-out all outstanding snags.
Why is Snagging important?
Snag list is usually issued after works are substantially completed, but before client/end-user issues the final completion certificate. For example, a tenant may not occupy the shop until a dented door handle is rectified or replaced.
Hence, though the snag is of a minor value, it may have negative consequence. If a tenant refuse to occupy the shop due to a dented door handle, this may lead to loss of revenue for the property developer. The property developer may in turn penalize the contractor for this loss of revenue.
Hence, it is in the EPC contractor's commercial and contractual interest to ensure that all snags are attended, rectified and approved by the consultant/ end-user.
Request a Training Course Today!