Resource breakdown structure (RBS)
Resource breakdown structure (RBS)

Lesson Objective : 
Learn to develop the Resource Breakdown Structure (RBS) 
Effort required – 15 minutes 
Lesson Introduction:
When an organization is required to execute a project, it identifies several resources that is best suited to deliver the project with its scope, quality, time and cost. The top management in the organization refers to its resource breakdown structure (RBS) to identify and allocate the resources required for the specific project.
Resource breakdown structure can be therefore defined as a hierarchical decomposition of resource categories related by function. A typical RBS consists of mainly four main resource categories or classifications such as "manpower", "material", "plant" and "tools & equipment".
A RBS displays the available skills and location of resources available within an organization to work on a particular project. It identifies people with specific skills (such as structural engineer, designer, etc.) and where they are located so that the right person can be allocated for a specific task.
The RBS includes, at a minimum, all resources on which project funds will be spent, including personnel, tools, plant, machinery, materials, equipments, fees and licenses. It is important to note that the funds required to be spent on a project is not an element of RBS.
An example of a Resource Breakdown Structure to construct a bridge is provided below for illustrative purpose only.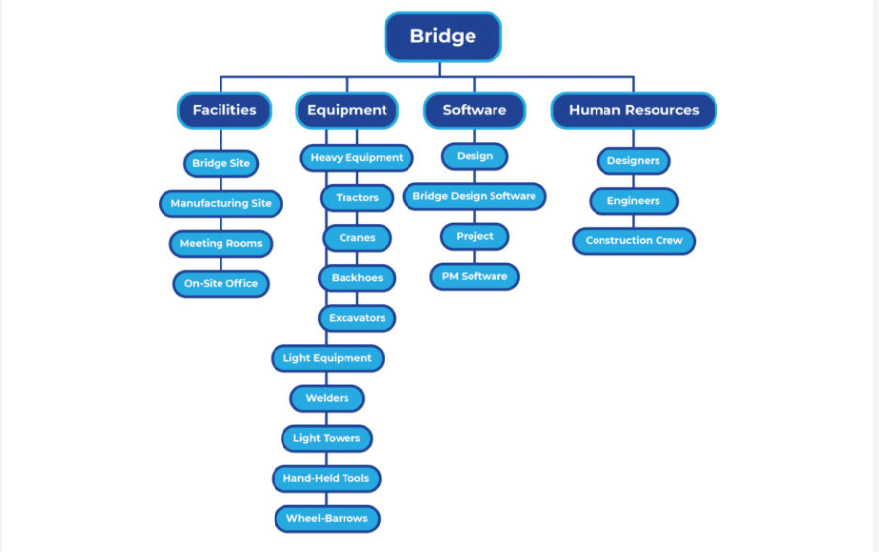 Exercise 
Develop the resource breakdown structure for any one of your projects. 
Request a Training Course Today!