Learning Objective 
Upon successful completion of this module,  you will learn to;
Appreciate the importance of stakeholder management within project management 
You will learn to identify stakeholders and prepare a stakeholder register 
You will learn to classify the stakeholders 
You will learn the steps involved in Project Stakeholder Management (PSM)
You will learn to develop strategies to enhance stakeholder engagement 
Effort required – 30 minutes
Lesson

Introduction

 

A project stakeholder can be anybody who is affected positively or negatively, by doing a project or by delaying a project  or by not doing a project. 

Stakeholders perceive that they have stake in the project / outcomes. As a result of their perceived stake in the project, they have certain expectations, and consequently engage in certain type of behaviour, sometimes constructive and sometimes destructive. (Bourne & Walker, 2006) 

Stakeholder identification and preparing a stakeholder register is the first step towards achieving good stakeholder engagement through all phases of the project.  Identifying the key stakeholders upfront helps to capture and manage their expectations proactively which is crucial for managing stakeholder expectations related to project scope, cost and schedule.  

Here is a sample list of stakeholders of an airport project.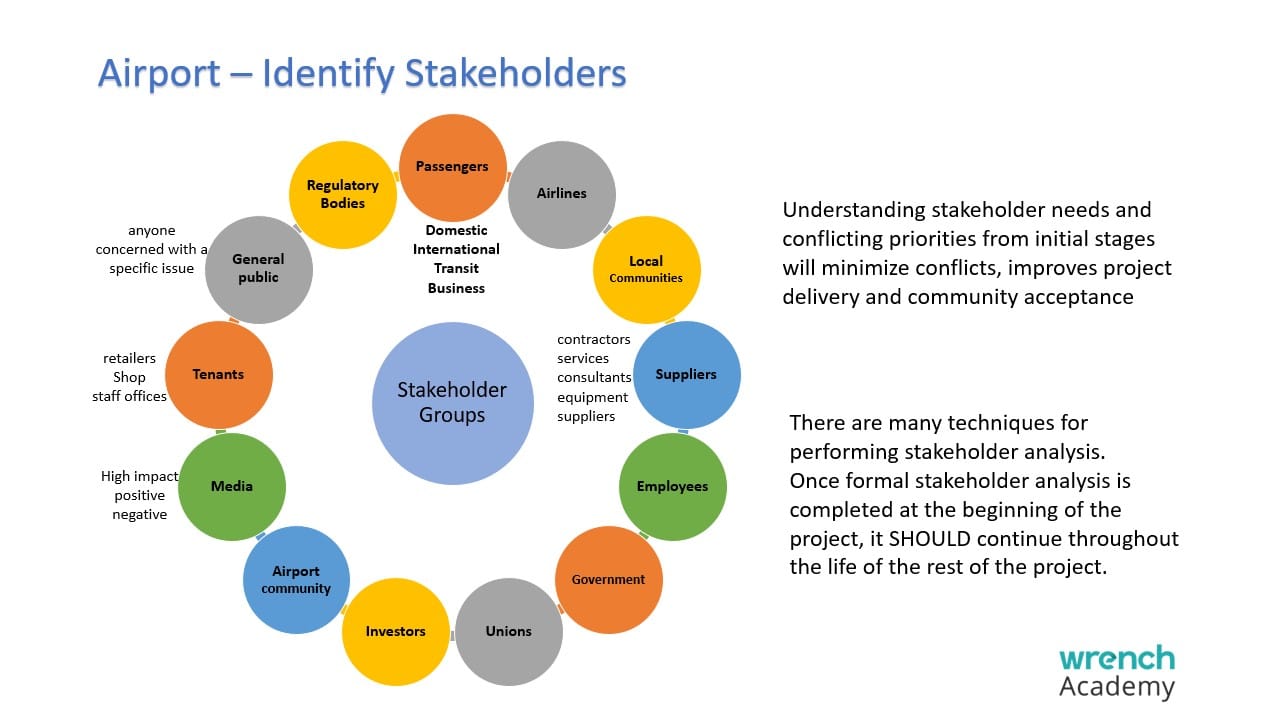 Classification & Prioritization of stakeholders
At a broader level, Stakeholders can be classified as; 

Direct Stakeholders
Indirect Stakeholders
For any given project the direct stakeholders are:
Sponsor (customer) of the project

 

Contractor

 

Sub-contractor 

 

Engineering heads

 

Consultants

 

Team

 

End users of the product of the project

 
The indirect stakeholders list can be very vast, and at the same time identifying and managing the indirect stakeholders is key to the project's success.  It is very difficult to come out with a universal list of indirect stakeholders. Here is a sample:
Families of team members (If they are unhappy, most probably the team member may resign from job soon)

 

Competitors (They can recruit some of your key team members)

 

End users of competitors products (Customer complaints, especially against your competitor's products is very useful)

 

Intellectual property bodies (Do not violate them knowingly or unknowingly)

 

Government agencies (Must manage well)

 

Trade unions (Be careful, if your product is going to disrupt an existing market. Online taxi operators like Uber, Ola Vs traditional taxi operators, Amazon vs traditional shops)

 

Product review groups (Most of them are paid reviewers. Do not forget to budget for them)

 

Any other groups (Even the name of your project / product should not harm anyone's culture, religion etc.)

 

Any citizen (Farmers, drivers, pedestrians, vehicle owners, anyone) who is affected negatively during or after the project.

 
It is worth spending time to identify the key stakeholders and their impact on your project / product individually and collectively, at the beginning of the project and throughout the project. 
Once the stakeholder list is prepared, the next logical step is to classify them. Though there are several types of stakeholder classifications, we will discuss about the Power-Interest quadrants and the Salience model. 
Power-Interest Quadrants 
Based on this model, stakeholders can be classified into; 
High power, high interest group

 

High power, low interest group

 

Low power, high interest group

 

Low power, low interest group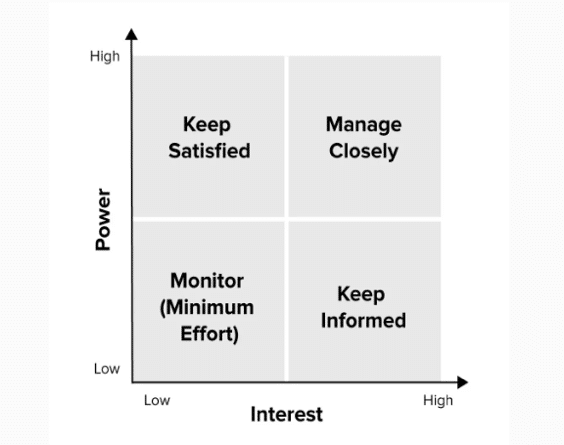 As shown in the diagram above, the high power – high interest stakeholders must be managed very closely. We must keep the high power-low interest stakeholders satisfied. The low power-high interest stakeholders must be kept informed about the project's progress. The low power – low interest group can be ignored for the time being.  
The Salience model
The salience model uses three dimensions: legitimacy (A), power (B), and urgency (C). It is represented in a Venn diagram, that has 8 regions each associated to a specific stakeholder type.
Stakeholder types as described by the salience model:
Discretionary stakeholders: These stakeholders have little urgency or power and are unlikely to exert much pressure. They have legitimate claims. (yellow region)
Dormant stakeholders: These stakeholders have lots of power but no legitimacy or urgency and therefore are not likely to become heavily involved. (blue region)
Demanding stakeholders: These stakeholders have little power or legitimacy but can make lots of "noise" because they want things to be addressed immediately. (red region)
Dominant stakeholders: These stakeholders have both formal power and legitimacy, but little urgency. They are tend to have certain expectations that must be met. (green region)
Dangerous stakeholders: These stakeholders have power and urgency but are not really pertinent to the project. (purple region)
Dependent stakeholders: These stakeholders have urgent and legitimate stakes in the project but little power. These stakeholders may lean on another stakeholder group to have their voices heard. (orange region)
Definitive stakeholders: These stakeholders have power, legitimacy and urgency and therefore have the highest salience. (white region at the intersection of all other regions)
Non-stakeholders: These stakeholders have no power, legitimacy or urgency. (outside the regions defined by the circles A, B, and C)
Project Stakeholder Management Strategy Framework (PSM)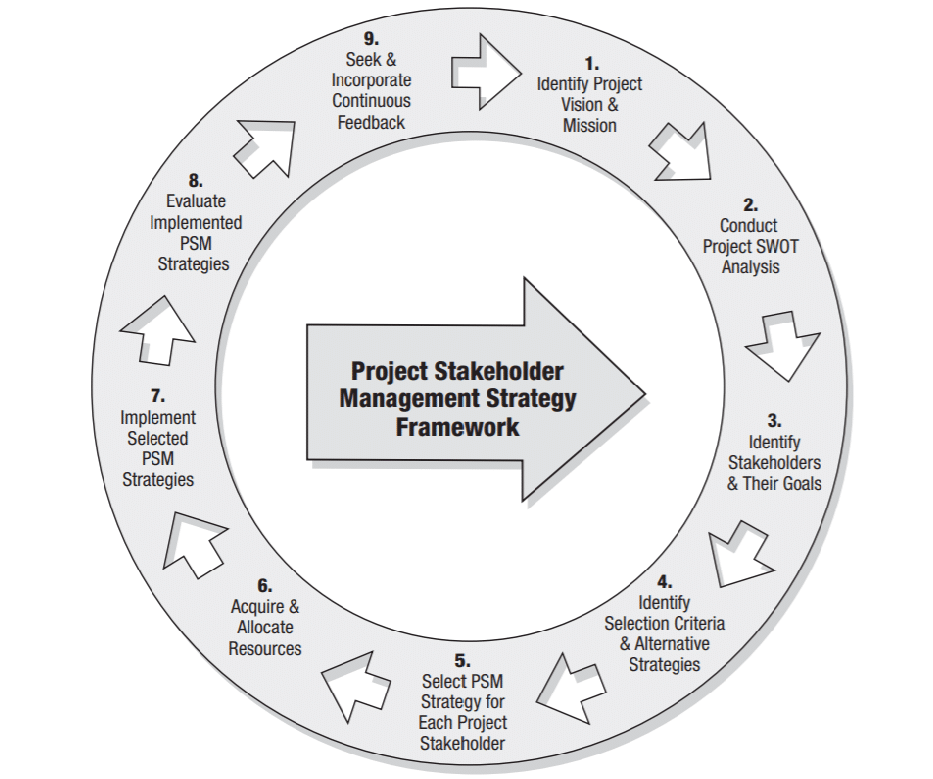 Identify Project Vision & Mission – The project manager to identify and articulate the project vision and mission. 
Conduct Project SWOT Analysis – This step requires the project manager to conduct a project SWOT (strengths, weaknesses, opportunities, and threats) analysis. Within the SWOT analysis, the project manager needs to
identify the internal strengths and weaknesses of the project team. Internal strengths and weaknesses are factors that the project manager or team can control (David). The project manager also needs to identify the external opportunities and threats that face the project team. Opportunities and
threats are factors that are external to the team and outside of
its control (David).
Identify stakeholders and their goals – Project manager identifies all project stakeholders and their goals and stake in the project.
Identify selection criteria and alternative strategies – The project manager determines his or her selection criteria and identifies alternative strategies or plans of action for managing each project stakeholder and his or her goals. 
Select PSM strategy for each project stakeholder – Project manager selects the project stakeholder management strategies that he or she will employ to aid the project stakeholders in achieving their goals while the project manager is able to attain his or her project goals.
Acquire and allocate resources – The project manager acquire and allocate the resources he or she needs to implement the selected PSM strategies. 
Implement selected PSM strategies – Actual implementation of the selected PSM strategies
Evaluate implemented PSM strategies – Project manager to evaluate the implemented PSM strategies, and to make corrective changes in the implemented PSM strategies where necessary
Seek and incorporate continuous feedback – Project manager to
elicit feedback from the various project stakeholders on a regular basis. 
Adopting this pro-active approach to stakeholder management will enhance stakeholder engagement and satisfaction, which is important for the successful completion of the project. 
Case Study
A case study of project and stakeholder management failures – PMI 
Exercise 
Prepare a stakeholder register of any one of your projects  or for the case study provided. 
Classify the stakeholders based on their power to influence the project and their interest in the project. 
Develop strategies to deal with the high power / high interest category of stakeholders.
Request a Training Course Today!